Model added to the comparison
Model removed from the comparison
There are already 5 models for comparison, it's not possible to add others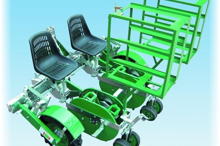 Loading mode:
Number of rows: 3.0 n.
Loading mode

cube: semiautomatic or semi-mechanical

Number of operators (tractor driver excluded)
Transplant on mulching film

yes, on already laid film
Operating width min - max

0.9 m

90.0 cm

900.0 mm

2.88 m

288.0 cm

2880.0 mm
Suggestions? Do you think that information on this page should be corrected? Write to us to report the changes. Thank you!
Macgest® is a website made by Image Line®
® marchi registrati Image Line srl Unipersonale (1990 - 2020)