Model added to the comparison
Model removed from the comparison
There are already 5 models for comparison, it's not possible to add others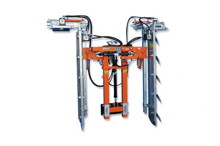 The series CRV is characterized by innovative cutting bars with stainless steel blades. The use of lightweight aluminum pulleys and toothed belts has allowed to greatly reduce the weight of the bars and to improve the performances. The maximum speed during the work now is more than 15km/h (10mph) without compromising the quality of cut. The bars are provided with independent safety devices and construction is extremely robust and able to resist to all stresses. The models are available in several styles to adapt to any type of plantation, and the cutting lengths range is from 105 to 175cm.
Models
1 models available for this line
Coupling to the self-propelled machine: trailed
Number of modules: 2.0
Types of cutting devices: knives

Greenery maintenance
Toppers
Suggestions? Do you think that information on this page should be corrected? Write to us to report the changes. Thank you!
Macgest® is a website made by Image Line®
® marchi registrati Image Line srl Unipersonale (1990 - 2020)