Model added to the comparison
Model removed from the comparison
There are already 5 models for comparison, it's not possible to add others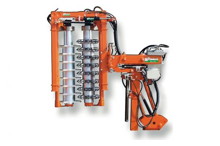 Pre-pruner and remover vine canes CPS, suitable for all varieties of vineyards, essential for cost containment of vineyard occasional clearing of the wires as most of the canes are removed from the wires, therefore reducing the pruning time by at least one third. The CPS has electro-hydraulic controls and a ergonomic joystick with 8 functions that allows it to work on slopes due to 2 tilting functions, sideways and backwards/ forwards, that permits easy entry-exit of the rows. It is also possible to mount on the same frame the summer trimming machines CRV and CRL, leaf removers and shoot remover.
Models
1 models available for this line
Diametre of discs: 35.0 mm
Number of disks for group: 6.0 n.
Type of processing implement: deleting roller
Vertical cut: 0.7 m

Greenery maintenance
Pre-trimmers
Suggestions? Do you think that information on this page should be corrected? Write to us to report the changes. Thank you!
Macgest® is a website made by Image Line®
® marchi registrati Image Line srl Unipersonale (1990 - 2020)