Vicon
Vicon, 100 Years of Innovation

Being a high-profile specialist, Vicon offers dedicated products and services within forage harvesting equipment, seeding systems, fertiliser spreaders and sprayers. In the past 100 years the Vicon brand has introduced a constant stream of groundbreaking innovations and has a proud history of being first on the market with new concepts. Since the world wide success of early innovations like the "finger wheel" rake and pendulum type fertilizer spreader, the distinctive Vicon logo has been known as a quality brand embracing a wide range of high performance equipment.




Vicon on social networks

Kverneland Group Italia S.r.l. :: Vicon

Kverneland Group Italia - Via dell'Industria 22/A - 46043 Castiglione delle Stiviere MN

Tel. 0376 944733 Fax 0376 944746

63 lines found for this brand
Line
Category
Line RotaFlow RO-C

The spreader Vicon RotaFlow RO-C is the most compact Vicon, and contains all the features of the series Rotaflow. The hopper of the standard type has a capacity of 700 ...

Fertilising
Line RotaFlow RO-M

The spreader Vicon Exacta CL is perfect for farms with soils of medium size. Each disc has 8 distribution pallets and their length determines the working width of the ...

Fertilising
Line RotaFlow RO-M EW

The Vicon RO-M EW ROTAFLOW the spreader is ideal for small farms. This fertilizer spreader calibrating compatible ISOBUS 11783 is equipped with a single reference sensor. ...

Fertilising
Line RotaFlow RO-XL

The spreader Vicon RO-XL ROTAFLOW offers the largest hopper of the entire range. Its rugged construction allows it to carry from 3450 to 3900 liters of fertilizer, thanks to ...

Fertilising
Line RotaFlow RO-EDW

The spreader calibrating ROTAFLOW RO-EDW is top of the range Vicon. This fertilizer spreader calibrating compatible ISOBUS 11783 is equipped with a single reference sensor. ...

Fertilising
Line RotaFlow RO-EDW GEOspread

The RO-EDW GEOspread is equipped with two actuators on each dosing unit. One of these actuators controls the setting of the discharge point of the dosing cup onto the ...

Fertilising
Line RotaFlow RO-M GEOspread

The Vicon RO-M GEOspread is the ideal spreader for arable farmers and professional dairy farmers. The GEOspread system does section control with sections of only 2 metres. ...

Fertilising
Line SuperFlow PS225

The Superflow Vicon PS225 is the smallest model in the range of fertilizer spreaders pendulum, and is ideal for spreading on large green areas such as golf courses and ...

Fertilising
Line SuperFlow PS403

These fertilizer spreader equipped with a hopper with a capacity ranging from 400 to 500 liters and are ideal for work on small farms or spills on special surfaces, such as ...

Fertilising
Line SuperFlow PS403VITI

The spreader PS403 / 503 VINES, with a large hopper only 115 cm, is ideal for operations in orchards. The capacity of the hopper is between 400 and 500 liters.

Fertilising
Line PS 604-1654

With these models, a fertilizer spreader Vicon offers high-quality, easy to use, with a range capable of satisfying any type of requirement. The capacity of the hopper of ...

Fertilising
Line Extra 300F

The ability to easily adapt to any condition of the soil, the ease of operation and lightness are the main features of these models. Lefalciatrici disc Vicon EXTRA 328F and ...

Hay-making
Line EXTRA 332XF FlexiSwat

The mower Vicon EXTRΔ 332XF is the first front disc mower to have a training system swath active transmission, making it ideal for both broad spreading it to form ...

Hay-making
Line Extra 328-340

The range of mowers Vicon EXTRA 300 rear-course includes working widths ranging from 2.80 to 4.00m, with a weight ranging from 810 to 940 kg depending on the working width, ...

Hay-making
Line Extra 390-395

Mowers Vicon EXTRA 390-395 are disc mowers that best meet the needs of an increasing number of farmers who wish to work on large surfaces with a relatively small tractor. ...

Hay-making
Line Extra 100

The new series EXTRA 100 is based on the cutter bar EXTRA designed to ensure low maintenance costs and reduced noise. EXTRA 100 series machines are designed to operate in ...

Hay-making
Line Extra 200

The models EXTRΔ 200 disc mowers are simple and light, equipped with a compact structure, able to ensure the highest performance at a very affordable price. These disc ...

Hay-making
Line Extra 400H

The disc mower Vicon Extra 428H - 432H - 440H are mounted centrally and have working widths of 2.8, 3.2 and 4.0m. All disc mowers Extra 428H - 432H - 440H are dated to the ...

Hay-making
Line Extra 600 FT/FR

The mower conditioners frontal Vicon EXTRΔ 628FT, 632FT, 635FT 632FR and can be used both individually and in combination with a wide variety of MoCo, between which ...

Hay-making
Line Extra 600T

The mower Vicon EXTRA 624T and 628T have working widths of 2.4 and 2.8 m. Both mowers have the cutter bar EXTRA and a thin, for better cutting quality. The cutting unit is ...

Hay-making
Line Extra 632T

The new mower Vicon EXTRA 632T is equipped with a frame with double arm that keeps the car suspended centrally, while it is being driven with the second arm. The machine ...

Hay-making
Line Extra 690T ISOBUS

Vicon offers a unique solution to the mower working width of no less than 9.0m. It consists of a combination between the front mower range EXTRA 632FT 635FT or two 3.2-3.6m ...

Hay-making
Line Extra 732T-732R-736T-736T Vario

New line of mounted mower conditioners from Vicon with ground breaking suspension concept. The mowing unit is suspended by four suspension arms that allow the mowing unit to ...

Hay-making
Line Extra 900T/R

The series of mower Vicon EXTRΔ 900 was entrusted with regard to important aspects such as ease of operation, the cut quality and performance. Thanks to a range of ...

Hay-making
Line Extra 900CT/CR

The Vicon EXTRΔ 900 series consists of new mower increased capacity, reliability and ease of use. Great versatility with the ability to choose between three different ...

Hay-making
Line Expert 117-119

The new models Vicon EXPERT 117 and 119 are particularly suited to operations in the fields of small or medium size. The drum mowers are known for ease of use, reliability ...

Hay-making
Line Expert 432F

The drum mowers EXPERT 432F are particularly suitable for use in combination with the mower capacity discs rear Extra or with the drum mower EXPERT 431, thus ensuring ...

Hay-making
Line Andex 323/474T

Vicon offers several models of compact single rotor rake, designed for use with low-power tractors with large working widths. These rakes in fact provide a working width ...

Hay-making
Line Andex 424-464

The new series of single-rotor rake Vicon Andex is based on the technology of the ProLine gearbox. These Vicon rakes offer a working width of 4.2 and 4.6 meters, ...

Hay-making
Line Andex 724-724 Hydro-764

Vicon offers two-rotor rakes with a sturdy frame. These rakes are able to produce a central swath with a width of between 7.2 and 7.6m. Thanks to their heavy-duty are able ...

Hay-making
Line Andex 1104

Yandex is a 1104-rotor rake with a working width of 10,6m for high performance. This rake has been designed to provide excellent results even in conditions of work in which ...

Hay-making
Line Andex 1505

The rake Vicon Andex 1505 is a high performance machine that can satisfy even the most demanding needs. This rake Vicon is equipped with hydraulic adjustment of the working ...

Hay-making
Line Andex 784/904 Hydro

The Andex 784, 804, 844 E904 Hydro are robust twin rotor rakes with working widths of up to 7.8, 8.0, 8.4 and 9 m. They are designed to meet the most difficult conditions ...

Hay-making
Line Andex 1254

This Brand Vicon rake is designed to make your job easier, even in the toughest conditions. With its working width of 12.5m, it has a great capacity for work.

Hay-making
Line Andex 694 EVO/VARIO

These swath to side swath have a solid structure and accompanied by the ultra tested Terralink Quattro system, to better follow the uneven ground. With a working width of ...

Hay-making
Line Andex 714T VARIO/EVO

The swath Vicon Vicon Andex Andex 714T VARIO and 714T EVO are designed for maximum flexibility and work in any working condition. The two rotors are working independently of ...

Hay-making
Line Andex 774

This new rake with side swath with a steering system controlled has twelve double tangential tine arms. Adjustable cams allow the best formation of swaths possible at any ...

Hay-making
Line Fanex 464-524T-524

Vicon offers three models of compact tedders from reduced maintenance, with working widths from 4.6 to 5.2 meters and with the dishes of the rotors 500 mm. These rotors may ...

Hay-making
Line Fanex 554/904

The Vicon Fanex 553, 683, 763 e903 are high quality tedders with working widths from 5.5 to 9 meters. These Vicon tedders are provided with a head of attack to three pivot ...

Hay-making
Line Fanex 604-804

The tedders Vicon Fanex 604 and 804 have an enviable package of features such as standard vibration dampers, a strong central unit V and a central control for the spill ...

Hay-making
Line Fanex 764

The tedder Fanex 764 is designed to provide excellent performance in all conditions of product, minimizing maintenance operations and the machine downtime. The robust ...

Hay-making
Line Fanex 834T-1134T

The Vicon Fanex 834T and 1134T are high performance tedders particularly suitable for farmers who require large working width with the use of low-power tractors. The ...

Hay-making
Line Fanex 763C - 903C

The tedders Vicon Fanex 763C e903C are designed for low-power tractors and low lifting capacity. The standard equipment includes a hydraulic system for easier operation on ...

Hay-making
Line Fanex 1103C - 1404C

The Vicon Fanex 1103C and 1404C are machines use very simple. All operations are operated hydraulically and can be controlled directly from the tractor cab. These tedders ...

Hay-making
Line Alpex 220-280

The low center of gravity of this loader wagon guarantees absolute stability and a large safe operation on steep hilly, for passages under trees or in conditions with very ...

Hay-making
Line Feedex 300 - 360S - 360T

This loader wagon model with comb reflector has a capacity of 30-36m³ and folding extension. The extension folds down, reducing the overall height of the single axle ...

Hay-making
Line Feedex 390-440

The Feedex models 390 - 422 to 440 are the most multifunctional machines of the loader wagon range. They are characterized by an all-steel structure and an extension ...

Hay-making
Line Rotex 400/552

The new wagon Rotex 400, from 40m³ capacity, also offers maximum efficiency with low power tractors, at a height of transport of only 3.3m and weighing only 14 tons; ...

Hay-making
Line Extra 7100T/R Vario

The all-new EXTRA 7100T Vario delivers an outstanding performance with its´ completely new suspension concept, 10.20m working width and hydraulic adjustment of working ...

Hay-making
Line T-Rex

The silage wagons Vicon T-Rex are characterized by an enormous capacity, a large load volume and high discharge rate. These features make the T-Rex series wagons Silage ...

Transport & handling
Line T-Rex Shuttle

The wagons for silage T-Rex Shuttle have been developed to optimize the transport of the crop from the field edge to another wagon, making it possible to transport a greater ...

Transport & handling
Line Duplex 400 - 600

The Vicon Duplex models 400 and 600 are spreaders of fast feed. They have an enormous capacity and are able to easily and efficiently work with large amounts of product. The ...

Hay-making
Line RF 3225

The new round baler with a fixed chamber Vicon RF 3225 are designed to provide maximum flexibility in a presence of any type of product. The perfect bale shape in ...

Hay-making
Line RV 5216 - 5220

New RV5216 and RV5220 feature of the new net wrapping system and patented twine PowerBind and Intelligent Density 3D system that allows you to choose the bale density. Both ...

Hay-making
Line RV 5116 - 5118

The new series of RV 5000 round balers powerful and reliable has all the requirements to perform the job in the best way! Including brand new and reliable binding systems ...

Hay-making
Line RF 4255

The new Vicon RF4255 chamber balers offer excellent performance in all product conditions. Perfect bales and lasting performance over time. The concept of a mixed chamber, ...

Hay-making
Line RF 4225

The new Vicon RF 4225 fixed chamber round balers offer great versatility with different types of products, in all conditions. Precision in baling, combined with long-lasting ...

Hay-making
Line RF 4325

The new Vicon RF 4325 round baler is a fixed roller chamber model, designed for intensive use where high levels of efficiency are required. The new chamber structure, with ...

Hay-making
Line BW 2400

The winder driven Vicon BW 2400 is designed for small tractors. This machine is very easy to use; In fact, the mechanical version offers a cut and a fully automatic film ...

Hay-making
Line BW 2850

L'Avvolgitore Vicon BW 2850 E Adatto Agli Agricoltori Professionisti Che desiderano svolgere un avvolgimento semplice su balle rotonde di grandi Dimensioni. La Struttura ...

Hay-making
Line BW 2600

L'Avvolgitore trainato Vicon BW 2600 E L'Ideale per l 'avvolgimento di un gran numero di balle tramite il Sistema di una Piattaforma girevole. E progettato per ...

Hay-making
Line BW 2100

The Vicon BW 2100 models are portable winders with attack to three points of the tractor, able to ensure a simple but reliable wrapping of silage bales. This model is ideal ...

Hay-making
Line BW 2250

Vicon BW 2250 allows you to wrap your hips moving bales. And 'so you can collect the bale and wrap simultaneously during transport to the storage site. The bale is ...

Hay-making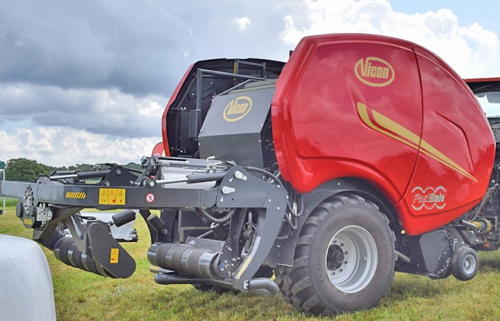 The story of Vicon starts in 1910 thanks to the initiative of a young farmer named Hermanus Vissers, who started working as a contractor in the Haarlemmermeer farm and began producing small machines useful for its activities.
After the war, during the first fair in Utrecht, Vicon introduces its improved version of a transplanter potato. Given the extraordinary success he decided to concentrate its activities on the production of agricultural equipment. In 1949 he acquired the global patent for stellar swath former, which had a very good success. In 1955 he moved to new premises in Nieuw-Vennep, which still remains productive headquarters. In 1958 Vicon acquires the rights of the pendulum fertilizer spreader by Louis Steffenino during the Fiera di Verona. Another great success.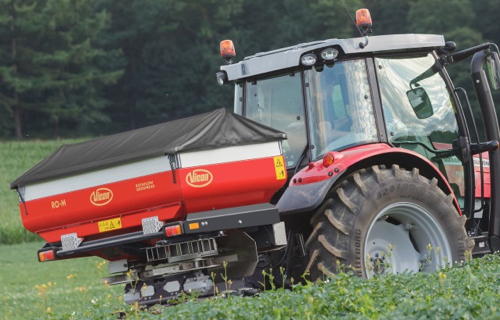 In 1961 it was the turn of the beet. Then there were in 1963 a new model of digging machine and in 1966 the disc mower (each with two large knives). In 1978, Vicon acquires a small manufacturer of machinery for silage, which allowed him to extend its range. 1983 marks an important step for Vicon in Microelectronics appalicata to agricultural machinery. It was invented high-density giant square baler HP 1600, which was the first ever to be driven electro-hydraulically to produce high density bales (both hay silage).
In 1984 it was purchased new companies specializing in weed control. In 1989 he was introduced to the world the first round baler with the device of pre-cut knives, which set a new standard of quality for silage bales. In 1998 the Kverneland Group acquires Vicon.
This brand is found in 3 category/ies